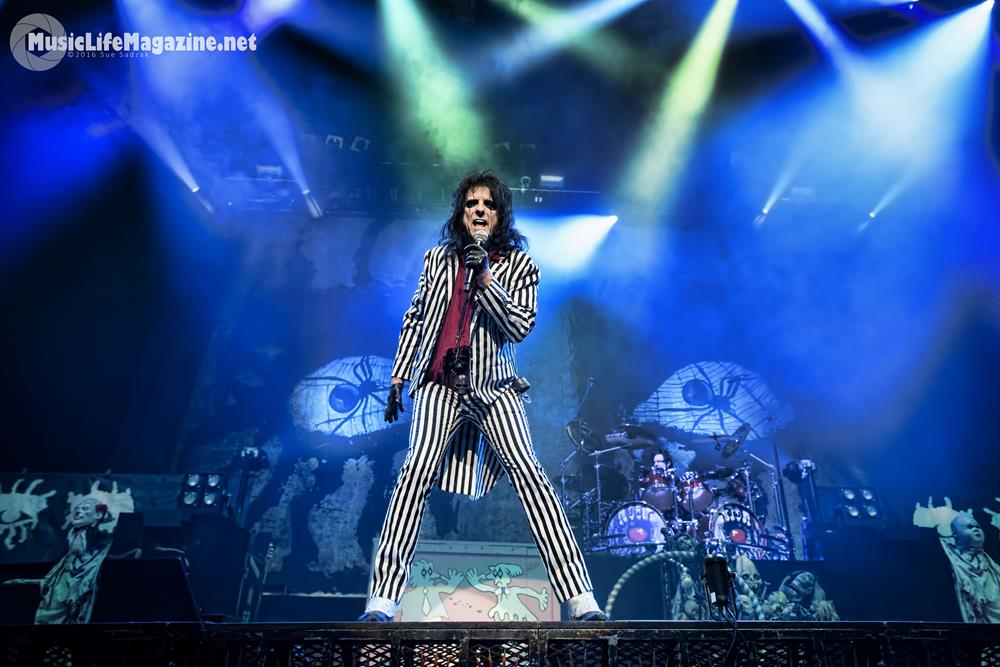 (Orillia, ON) – Vincent Damon Furnier, better known as Alice Cooper recently ended his North American tour, performing at the Casino Rama to a packed house. Terrifying the masses for 5 decades, he still has the energy and the right amount of creep factor to keep the show going.
The show started with Alice wearing a black cloak, walking through a wall of fire. Yes, it was primed to be a good show.
This large theatrical production had all the death and doom props possible. Everything from a snake, guillotine, an electric chair, a straight jacket, lethal injections, and of course, you certainly can't forget the 14′ tall Frankenstein! Maybe that's why my father forbid me to see Alice Cooper as a teenager.
The band consisted of Nita Strauss (Guitars) Ryan Roxie (Guitars) Tommy Henriksen (Guitars) Chuck Garric (Bass) and Glen Sobel (Drums).
The set was longer than I expected. They played his classic hits like No More Mr Nice Guy, I'm Eighteen and School's Out For Summer. Like a lot of touring bands, he also performed cover songs from The Who, Jimi Hendrix and David Bowie. These songs had tomb stones drop in the background with the dearly departs names on them.
With the song Poison, Nita Strauss showed that woman can "Kill it" on the guitar. Wielding her 5 string axe she played a guitar solo that literally had me in awe. A force to be reckoned with.
Glen Sobel performed an upbeat, high energy drum solo, with stick flips and an impressive command of the tempo. Bassist Chuck Garric accompanied him with a back beat.
Chuck Garric took over on the vocals for the song I Love The Dead.
The crowd where rewarded with many souvenirs through out the show, like Alice Cooper currency, his cane and guitar pics galore.
This show is and continues to be bar none a fantastic display of theatrical terror. If you have the opportunity to see it, do not miss out!
All images are ©2016 Sue Sadzak
Do NOT copy without expressed consent.
Set list
Vincent Price Intro
The Black Widow
Public Animal #9
No More Mr Nice Guy
Under My Wheels
Is It My Body
Billion Dollar Babies
Long Way To Go
Woman of Mass Distraction
Poison (with Nita Strauss Guitar Solo)
Halo Of Flies (with Drum Solo)
Feed My Frankenstein
Cold Ethyl
Only Women Bleed
Guilty
Ballad Of Dwight Fry
Killer
I love the Dead (Sang by Chuck Garric)
Under The Bed (Raise the Dead Intro)
Pinball Wizard (The Who Cover)
Fire (Jimi Hendrix Experience Cover)
Suffragette City (David Bowie Cover)
I'm Eighteen
School's Out / Another Brick in the Wall
Elected (A Satirical dance between Hillary Clinton and Donald Trump)
Alice Cooper (WEBSITE) (FACEBOOK) (TWITTER)
SHARE THIS POST: