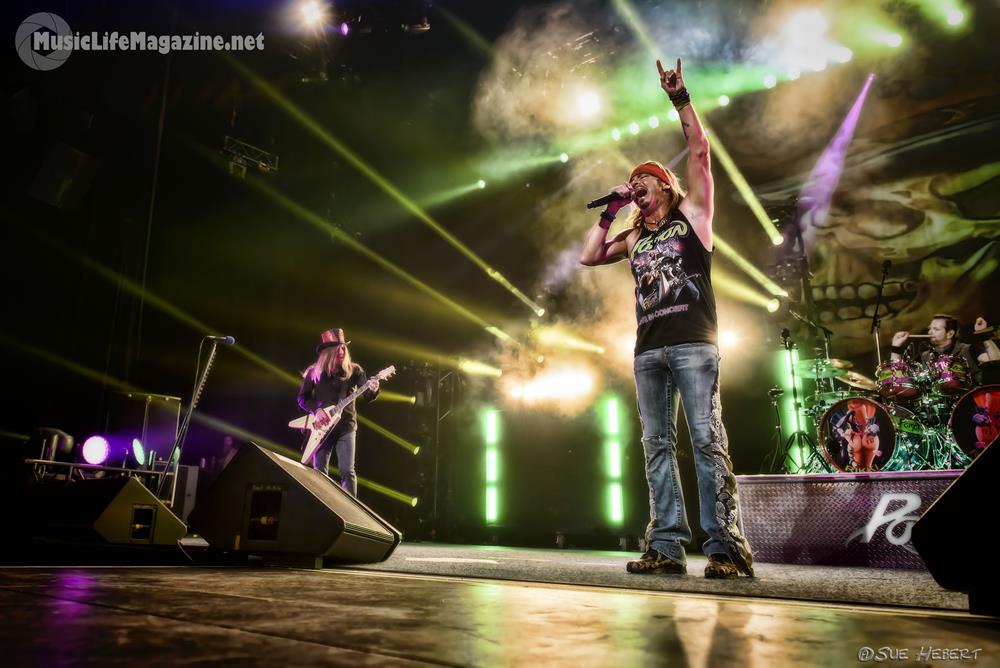 Poison
Casino Rama
Orillia, Ontario
May 11, 2017
One of my favorite hair bands back in the day was Poison. I remember as a teenager looking at their images on the Look What the Cat Dragged In CD and would think how incredibly beautiful they were, wanting to replicate their style. I never had a chance to see them live back in their heyday. So when the opportunity to see them perform as all original members some 30 years later I had to check their show out.
I could honestly say that I don't think I would have recognized bassist Bobby Dall out of a crowd. Everyone else to me looked pretty much the same, perhaps less hairspray and makeup, but certainly recognizable.  
Considering their age, they still put on a highly energetic show. Bobby running around, Bret with his jumps. Cancer survivor Rikki Rockett still did his signature stick tricks. For someone who fought and beat stage 4 cancer, he certainly looked great that night. Guitarist C.C DeVille stayed mostly stage right, unless he had a guitar solo then he would make his way over to the short cat walk that was situated at the center of the stage.
Of course the entire set was comprised with hit after hit, crowd pleasers as I call them.
Throughout the evening everyone showcased their talents with solos. For me the best was the drum solo. Rockett had so much groove and fun with it. I thoroughly enjoyed it. Bobby did a fun bass solo that meshed into the theme from Pink Panther. Personally my least favorite of the batch was CC's solo. I felt it lacked skill or originality.
Seeing it was their last stop on this leg of their tour, Bret's vocals were a bit weathered. He still put on a pretty good show, but felt like he performed better last year when he performed solo.
For their one song encore they performed the KISS song Rock and Roll All Night. I find this to be a trend lately with bands doing cover songs  for the encore. The crowd liked it, and I did too, however I just personally think that they should perform their own hits. The only time that I generally don't have an issue with a big band doing a cover is if it's in memory of a celebrity passing or such.
One common complaint that I heard from the crowd as we were vacating the venue was how short the show was. I think it lasted about an hour, which is the norm with Casino shows.
Overall, it was a great blast from the past. A show that was certainly worth seeing.
Setlist:
Look What the Cat Dragged In
Ride the Wind
Talk Dirty to Me
Cry Tough
Something to Believe In
Your Mama Don't Dance
C.C DeVille Guitar Solo
Fallen Angel
Unskinny Bop
Rikki Rockett Drum Solo
Bobby Dall Bass Solo
Every Rose Has it's Thorns
Nothin' but a Good Time
Encore:
Rock and Roll All Night (KISS Cover)
All photos by Sue Hebert
©2017. Please DO NOT copy or use without permission.
SHARE THIS POST: