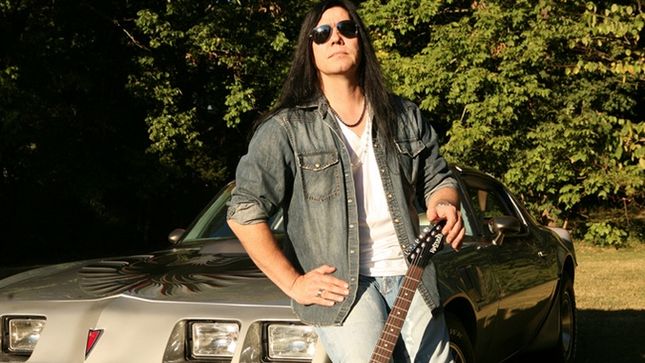 Mark Slaughter made a name for himself as the frontman for the melodic rock band Slaughter, which was known for infectious vocal hooks and melodies combined with great musicianship on hit songs like Up All Night, Spend My Night, Mad About You and the breathtakingly beautiful rock balled, Fly To The Angels.
The band's  1990 debut album Stick It to Ya proved to be a smash and the band's commercial peak as it came at the very beginning of the nascent 'Grunge' movement when melodic metal fell out of favour. Subsequent records, such as 1992's The Wild Life, Fear No Evil (1995), Revolution (1997) and Back to Reality (1999) were of excellent quality and displayed all the hallmarks of Slaughter's earlier releases, and while not huge successes sales wise, kept the band's name out there and allowed them to tour as often as the wanted – something that continues to this day.
Twenty years ago, Mark Slaughter, who co-founded the band that bears his last name alongside bassist Dana Strum in 1988 out of the ashes of the Vinnie Vincent Invasion (which both joined barely out of their teens), moved to Nashville from Los Angeles and began doing voice over work, as well as composing music for a variety of outlets including to shows on the Cartoon Network, Nickelodeon and Kids' WB, was well as for Fox Sports.
Slaughter's first solo recording was a single called Never Givin' Up which came out in 2014 with proceeds being donated to a charity helping military families in the U.S. A digital album of all-original solo material, Reflections in a Rear View Mirror, came out in 2015 and later in the year was released as a physical product. Both the single and album whetted Slaughter's songwriting appetite and allowed him another creative outlet – one that did not detract from his primary roles as Slaughter's vocalist and chief songwriter.
The decision to record a second solo album was primarily an artistic one. Slaughter said with the other members of Slaughter the band off touring as Motely Crue frontman Vince Neil's backing band, he had bother the time and the creative inclination to do new music – so he did. Halfway There was released in May of 2017 both digitally and in physical form.
"My band is playing pretty heavily with Vince as his solo band. I am an artist and I continue to make art and I wanted to get some new music out there; that really was the whole principle behind it, to keep my music going. And although I have mostly been touring with Slaughter, I have been doing some solo shows with friends. I think it's no different than Mick Jagger playing away from the Rolling Stones, or Paul Stanley doing solo records away from Kiss. I think it's really an artistic expression to do things a little differently than you would under the moniker or the logo of the band that you have been in," he explained in an interview conducted while he was taking a break from doing some production work for a Nashville-based band.
"And that's where it's at for me; professionally, being a songwriter, producer, guitar player, bass player, keyboard player and vocalist – all of the above are the artistic things that I enjoy doing, so I might as well do what I love. It's not a money grab by any means. It's a different world in the music industry, but it's what I love to do and it's what I do with my time outside of Slaughter."
One of the big differences between the music Slaughter made for Halfway There and what he is known for with Slaughter is that there is a little more sandpaper – a little more grit – but also it's one of the first times he has really put himself out there as a guitar player.
"The album does have a harder edge and I am doing all the guitar work on it, so that's something different. Most people don't know me as a guitar player [he plays rhythm guitar in Slaughter] but I have been a guitar player my whole life. I have always had other guitar players come in and do their thing because I had focussed on vocals only. But on this record I have really enjoyed writing the parts, playing the leads, giving it different textures to really do nothing more than what the song asks for," he said.
"That's where a lot of guitar players that I have worked with and ones that I have seen on stage do – they go out on an ego trip to say, 'look what I can do.' Sometimes it's not about that. Hey You, which is the first song on the record, when I played it originally when I was writing it I was thinking, 'okay, I am just going to kick ass on the lead parts on this because it's the first track on the record.' As I just kept playing and noodling and noodling I remember thinking is sounded like shit. I just picked up a slide bar and decided to go the completely opposite way and just hang in there and it was slow-hand method that worked better for the song. You've got to play what the song is asking for instead of what the ego asks for. And, yeah, the album is a little darker in some areas but it's honest. And, again, when you write songs, you do what the song asks for more so than anything else."
Lyrically, Slaughter is not trying to parlay the past in order to try and stay relevant. Halfway There is a rock album filled with crunching chords, great solos and generally kick's proverbial butt. But words that definitely are not penned by the same guy who wrote 'up all night, sleep all day.'
"It is mature to a certain degree, and that makes sense. When you're in your early 20s and you're writing a record, you are thinking about relationships; you are thinking about love and all those things that you are looking for in life – and you haven't actually lived. If you add 27 years on top that and there's a lot more life experience now. Over that time I have lost both my parents, gone through a divorce – it's not all bright unicorns and sunshine. At this stage in my life I have gone through some shit, just like everyone does," he said.
"There's no way I could have written the songs that I am writing now when I was in my 20s. They wouldn't be believable if I did. And there's no way I can write the kind of songs that I did back then because they also wouldn't be believable."
And even in this day and age where many within and outside of the music industry are claiming the end is nigh for the album as a way of releasing music, Slaughter, like so many of his contemporaries, still believe the format is viable.
"I consciously spent time on the order of the songs because I was looking to create a flow and dynamic, like we did back in the days before downloading and streaming. When I started putting together the very end of the record we were mixing and I had another song in place and I felt like the flow was wrong. It didn't feel like the album had a Side A and Side B. So I took two songs that were about three quarters of the way done, which I didn't have drums on, and I sent it out to my friend Josh Egan, who played on pretty much all of the songs already, and he did the drums while we were actually doing the final mixes on the rest of the album. So Halfway There was made for vinyl – it was made to have a Side A and Side B," Slaughter said, understanding that the album is, in many circles, still considered to be an anachronism.
"Vinyl is hanging on, but if you look at other physical formats, they're dying. If you buy a Ford there is no CD player, if you buy a computer, there's no CD Rom player – it's a dying format. Actual vinyl sales are about 25 per cent of the marketplace for physical sales. And it's growing because people are starting to go to that because it is that idea of being home and immersing yourself in the listening experience. Otherwise, the other choice you have is what you digitally listen to on your phone. That's our new music player. It's not an IPod anymore; it's through your frickin phone that does it all.
"And it's the way that I have always experienced albums myself. With headphones on we used to listen to Led Zeppelin or Kiss or Queen or whatever it was – those classic rock records where you could just fall asleep listening to them with headphones one or stay up listening all night. Those albums had a logic to them, a flow and a dynamic that made you want to listen all the way through, over and over."
Halfway There was released  through the EMP Label Group, which was started and is owned by Megadeth bassist Dave Ellefson.
"We did the Rock and Roll Fantasy Camp thing together and Dave is such a good guy. And I think it's important that you choose the people that you want to work with or even communicate with, people who are just good, solid people. Because it's not about the quantity of people that you know and are friends with, but it's the quality. And I think that Dave is just a great person," Slaughter said.
Slaughter said he may do some solo shows, but there are also a number of concerts lined up for Slaughter the band, which features the aforementioned Strum as well as drummer Zoltan Chaney and lead guitarist Jeff 'Blando' Bland.
"In August it's nothing but Slaughter shows, so we're all going to be focussed on that. But after that run I will probably throw some Mark Slaughter shows in there when there are some empty dates and the other guys will probably throw in some Vince Neil shows. It's a delicate balance between all the demands on our time, but nobody's getting their panties in a twist, because we're all doing what we love to do," he said.
"At this point I have known Dana for more than 30 years – the fact of knowing someone 30 years is crazy enough because some people won't ever know somebody that long, let alone be in business with them. We have got a long lasting friendship and it's been great."
Slaughter also said when the band plays live, he is heartened to see lots of young people in the crowd – most of whom would not have been born when Fly To the Angels was getting heavy airplay on MTV and MuchMusic in Canada.
"It's a good mix and it is surprising that I am seeing a lot of kids in their late teens and early 20s, many of whom are at the shows with their parents who grew up with us. And if you think about it, my kids are 19 and 22 so of course they were raised with that music too. It's no different than when I was raised with my mom listening to Peter Frampton, Pink Floyd and the rock records she owned," he said.
For more information on Mark Slaughter, Halfway There and Slaughter the band, visit http://markslaughter.com.
Jim Barber is a veteran award-winning journalist and author based in Napanee, ON, who has been writing about music and musicians for a quarter of a century. Besides his journalistic endeavours, he now works as a communications and marketing specialist. Contact him at jimbarberwritingservices@gmail.com.
SHARE THIS POST: